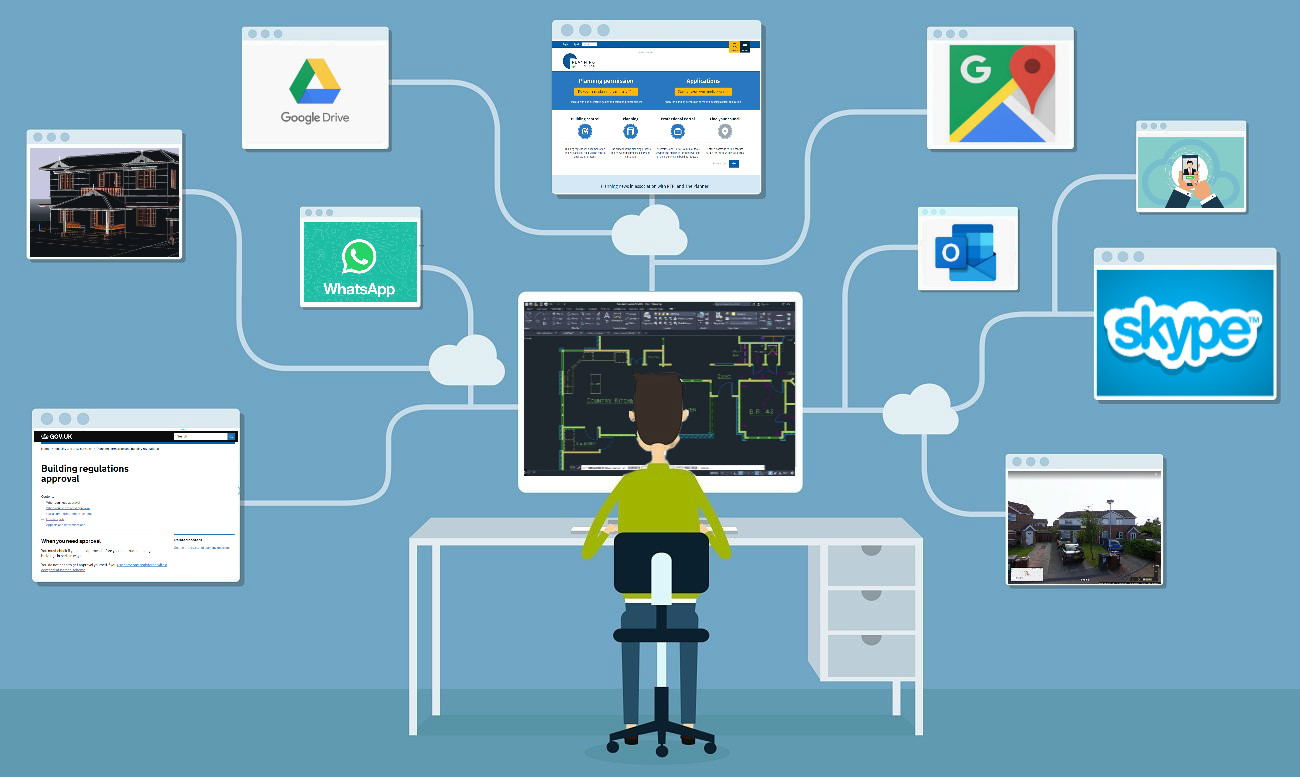 OnlineDrawingUK Planning Update
Throughout the UK all the 421 Local Planning Authorities (LPAs) are still accepting planning applications albeit no site visits will be carried out at this moment in time.  Since July 1948 planning applications have been required for any development required or wanted in the UK although online planning applications were only introduced in 2002 by the UK government.
PLANNING PORTAL UPDATE
As promised Online Drawing UK will keep you updated on the latest news that we receive from the planning portal. Online Drawing UK can provide you with your designs and submit your planning application to your local authority, whether you are looking for a loft conversion, single storey extension or double storey extension or a new build, we are a "one stop shop"  we will produce your planning drawings and offer planning advice to you as well as submit your planning application on your behalf for the local authority to consider for approval.
If you are looking to extend under Permitted Development, we will make sure this is possible by submitting a Permitted Development Application to your local authority development control, all this is to be done online now as paper applications are not been accepted, as such we will continue to use The Planning Portal who are a digital online service that are very fortunate to have the technology in place to continue the service they provide while their staff are working from home.  What does this mean for you as a customer?  It means that you will still have your applications validated and determined in a timely manner although the process maybe a few days slower than normal. They have however asked that all payments be made either online or by telephone as any cheque payments received will take longer to clear and this will have an impact on having your application validated.  The service centre will remain available, but the portal has asked that any correspondence be issued over via email as the telephone lines will take longer to answer than normal.  The planning portal have even supplied us with links to useful advice that we can pass onto our client base and they are updating us on a more regular basis than ever before.
At time of publication all types of planning applications are been accepted, Online Drawing UK can offer you key advice on the processes that need to be followed in order to have a successful application.
You may have seen some construction sites still open as normal throughout this turbulent time but a few of the larger companies have decided to close down all non-essential sites until they are instructed to do otherwise by the government, some sites need to remain open and functional as it is not considered safe to close them.  Remedial works that are deemed unsafe include structural and roofing problems, fire protection, gas and electrical issues along with any critical maintenance works within the NHS, although his is not an exhaustive listing the general attitude is that common sense must prevail and if the work is not of danger to staff or public then it should not be taking place.
Online Drawing UK have always worked remotely and will continue to do so, the transition to remote working has been a seamless one, all of our design experts and admin staff have the ability and attitude to continue providing you with the same great service and planning advice you are used to and we will continue to do this throughout the "lockdown".  From planning drawings to planning applications our online planning and design service we will provide you with all the consequential information you need in order to progress from the all-important dream you have to laying the first brick any secondary information you need is available direct from us.